Note: Delivery time for this oversize product takes 4-6 weeks. (The record-breaking port congestion is affecting the delivery of the oversize item. The actual shipping time may vary depending on the destination countries and could take LONGER). We are NOT able to process refunds due to the long shipping time. Thank you for your understanding. 
Summer is here! It's time to bask under the sun and soak up the warmth. Now your darling fluffy babies can join you and sunbathe on their comfortable rocking sunbath chairs. Made from soft mesh fabric and durable aluminum rods, this rocking sunbath chair for dogs and cats is available in 3 beautiful colors. So, turn your fluffball's summertime into a fun time with our rocking sunbath chair for dogs.

Order this now and receive a FREE Cover that your furry friend will surely love!
(Limited time offer Promo Runs Until October 31, 2021)

Suitable for pets up to 15kg/30lbs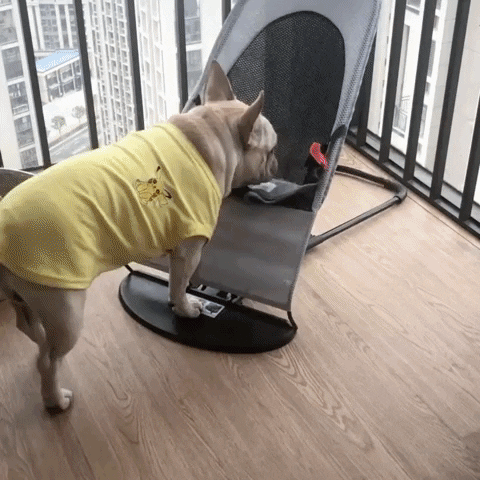 Safety Features:
Measurements: 
I bought it for my dog ​​to bask in the sun. I didn't know how to do it at the beginning. After a few days of continuous teaching, I learned how to do it. I may feel comfortable shaking it. The dog is reluctant to stay on it. When I go to bed, I will sleep on the rocking chair. The quality of the rocking chair is very good. My 36-pound dog hasn't been seated and can be used directly after receiving the goods. It is more convenient to use it directly without installing the gear and adjusting the gear.Super cool
Yes, it's good. It's just that the dog is a little scared at first, so he can adapt slowly. The only bad thing is that there is no fixed place under the mesh cloth, and it always runs up.
The baby likes it very much, the quality is very good, and I am very satisfied.
My baby didn't dare to go up at first, but he took food and bottle caps, and finally went up. I hope he likes it.There is just one thing I think needs to be improved. The chair is a bit light and the dog is okay to go up. When it comes down, it will fly out with a kick on the leg. It will make a clink. I am afraid that it will affect the rest of the neighbors downstairs for a long time. How can it be slippery? The slippage problem should be solved.