What if your dog could tell you what they're thinking? 
They have the ability to read our thoughts, follow our commands, and predict our wants. It's just one of the many reasons we adore them. It would be very easy to achieve a much deeper level of communication and truly understand their desires with our Pet Communication Button, making them feel heard and understood.
Teach Your Dog To Talk With Pet Communication Button
Now is your chance to find out what your dog has to say if you've ever wondered. To begin developing a new level of understanding about what your dog needs, you don't need to be a speech pathologist or a dog trainer. You will also learn how to train the dog to communicate using our buttons. With a little practice, any dog can use the buttons to express at least simple needs such as needing to go for a walk or play.
Step By Step
Teaching your dog to "speak" with communication buttons can seem overwhelming at first, but it is possible to do so. In fact, it's something that any pet parent can do with practices.
You'll want to start showing your dog how to use the buttons. The simplest method is to associate buttons with things of high value in your dog's life. Playing, eating, and going for a walk are several examples. Essentially, you want to begin with terms that your dog is already familiar with and that are things that your dog loves.
Think about how many words your dog already understands from cues for learned tricks and behaviors to humans, objects, and experiences like toy names, the park, and the beach. With this approach to training, all of the words your dog already knows (as well as other objects and experiences) can all be named for your dog. And in time, your dog could, in theory, be able to use their recorded buttons to ask for those objects and "have a conversation" with you.

Record-and-play buttons purposefully designed to be easily pressed
Pet Communication Buttons are small enough to not create a mess at home but big enough for your pet to use them (even if you have a Chihuahua). Your pet will learn thanks to the position of the buttons and later on thanks to remembering the words from the button. We have developed super-light touch mechanisms to help your pet express themselves without any effort.
Our Pet Communication Buttons are completely customizable with built-in microphones and speakers so the sound is very clear and you and your pet can hear what is being said.

Customizable with any words or sounds you'd like to teach your pet
Designed to be ultra-easy to press 🐾 even for small learners
Compact design so you can fit more buttons into a smaller space!
Works out of the box with long-lasting batteries (2 AA) capable of hundreds of plays (batteries not included)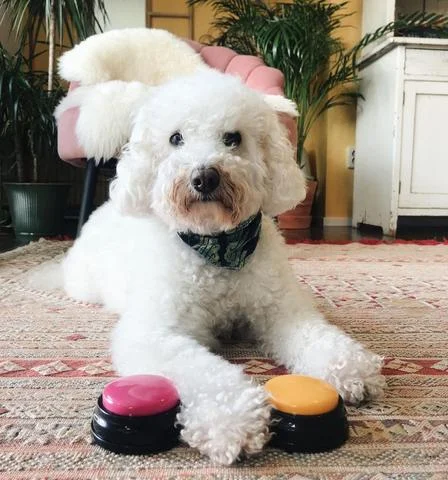 HOW IT WORKS:
- Long Press for about 2 seconds to start the recording mode. You will hear a beep right when the recording mode is activated.
- From there, you have 30 seconds of recording which will end automatically after 30 seconds OR after you release the button.
- Record the word you want your pet to say, we suggest starting training with the most used words ( "hungry", "outside", "potty", "play" ). Once your pet has mastered these words (about 1 to 2 weeks) we suggest you purchase more buttons so your pet can start expressing themselves even more!
Reasons To Buy From Us
✔️ Free Shipping: Take advantage of our limited-time worldwide Free Shipping offer. No promo code is needed. 
✔️ 30-Day Return: Your satisfaction is our top priority. Let us know if you are not happy with the product or you have a second thought.   
✔️ Exceptional USA-based Customer Support: We have 24/7/365 Ticket and Email Support, Please Contact Us if you need assistance.
✔️ Safe & Secure Checkouts: We use state-of-the-art SSL Secure encryption to keep your personal and financial information 100% protected.
Very cool buttons, the voice on the record is quite loud and legible. Buy more :)
My dogs life has changed completely. This is my best buy from this website!