*Oversize item (4-6 weeks delivery)
Features:
This cute cat tree allows cats to scratch, climb, move, and jump and protect their furniture and walls. Different from other cat trees, our products are more attractive and durable
Our cat climbing tree is made of highly qualified harmless wood and wrapped by hand with a natural sisal rope. The shape is vivid, attracts the cat's attention, and is very healthy for the cat's paws. Natural rope is completely harmless to cats
The design is simple, and the installation can be completed very soon, you can easily create a funny cat gym. If your cat is too fat, This cat tree will help him to lose weight
Our Material:
High qualified harmless wood and wrapped by hand with 

Plush &

 natural sisal rope.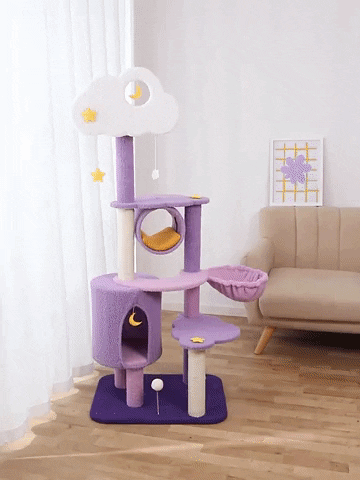 Size and Style:
The appearance is very high, as good as the description. Just installed, there is a little smell left, and it's fun to play with the cat stick to tease him up. Common problem! The shelf is not very sturdy, and the kitten sways on it at this point. It's okay to play until it's big.
My cat likes it very much. It keeps crawling on it and it looks great when taking pictures. My boyfriend also likes it very much. It feels that this cat climbing frame looks better than he has ever seen, and the quality is also very good, and it won't sway.
No color difference, beautiful, cat likes it,
This cat climbing frame is good. The overall workmanship quality is very good, especially the outer layer of flannel, it feels very comfortable to touch when installed, and the cover is on the person. It's the same as the flannel blanket, it's no wonder my family loves to smash so much, the delivery is fast, and the packaging is good. Installation is simple and convenient. Good looks, it's also a decoration at home