Going on a hiking or jungle trekking trip with your furry buddy can be an incredible adventure. As he trots at your heels and together, you explore the wonders of the world, there blossoms a friendship so strong and stable that you will never need the company of someone else. But just like all other adventure sports, your pet needs safety equipment and essentials to keep him safe and comfortable on the journey.

Our All-in-One Dog Leash is the ultimate piece of travel equipment for your doggie. Its ergonomic design includes four built-in parts that allow you to carry 5 dog walking essentials in one go.



This isn't your ordinary leash. This ergonomically designed unit took a lot of thought to design; not only did it need to perfectly contain these 5 essential pet walking must-haves, but also feel amazing to hold!

FEATURES
Non-Retractable Leash - (length: 4 feet / 121cm) It's

made from double-strength nylon, and has a rustproof, solid steel safety catch to keep your pup close and safe.
Water Container -

The 350-ml water container is made from food-grade silicone and comes with a drip-resistant lid to hold and store water.
Collapsible Bowl -

The detachable and collapsible water bowl can hold 250 ml of water and is wide enough to let your doggie easily enjoy his meals and drinks in it.
Quality Materials - The All In One Leash is made of high-quality materials and is engineered to be easy to use.
Waste Bag Holder - Y

ou can clean up after your pup and leave the trails poop-free.
Hook - And if you think that all that isn't enough, the leash comes with a handy hook to allow you to hang used waste bags on it, giving you a hands-free outdoor expedition with your dog.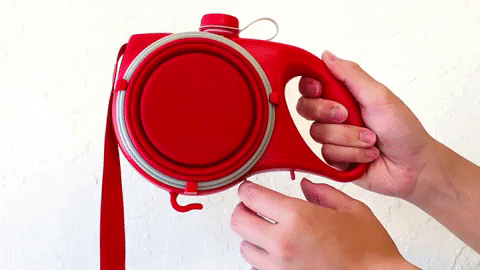 I am glad it is not a retractable leash
esperemos que dure. esta bien
love the concept but not sure about the quality. I would probably bring an extra leash just in case it snaps...
Absolutely perfect!!! Thanks!!
very nice ! its very much like the picture, handy