Note: Delivery time for this oversize product takes 4-6 weeks. (The record-breaking port congestion is affecting the delivery of the oversize item. The actual shipping time may vary depending on the destination countries and could take LONGER). We are NOT able to process refunds due to the long shipping time. Thank you for your understanding.
Make your cat the king of his castle!

Use your imagination to create a cat gym, cat play area, cat playground, and so on. Introducing our top-rated and most reviewed Moonlight Cat Tree!
Features: 
This beautiful and spunky Moonlight Cat Tree allows your cat to scratch, climb, move, play and sleep on. Unlike other cat trees, our lightweight moonlight cat climbing frame is made of sturdy harmless wood that won't topple over with the slightest nudge and are available in a variety of designs that help you find the perfect piece to fit seamlessly with your home decor.
Our cute moonlight cat tree is made with wood chips and high-quality, non-toxic PP cotton. Using the top layer to cushion the falls, it's strong enough for scratching, climbing, moving, into, and jumping. Our sisal rope is designed to be a natural, safe, and durable. The sturdy high quality wood construction, wrapped by hand with plush, makes it comfy and stable. It is guaranteed that this tree will provide many years of safe entertainment.
Our moonlight cat climbing frame has a colorful (blue & purple) and dynamic shape (cloud, stars. This cat scratch post will help your cat sharpen its hunting instincts as it climbs, scratches and plays.
This minimalist design of the moonlight cat climbing tower only takes minutes to assemble and offers your pet the possibility of climbing, scratching, lounging, eating, sleeping, and generally enjoying the comfort of a familiar environment without compromising on its safety.
The moonlight cat climbing frame instructions are included in the package. If you need more assistance, please send an email to support@sanfrenchie.com along with your order number and we will be more than happy to provide a step-by-step guide on the installation or troubleshooting.
Free Shipping to U.S.A, UK, Australia and most of the EU countries. Please check out why our customers love this Starry Night Cat Tree Tower in the review section.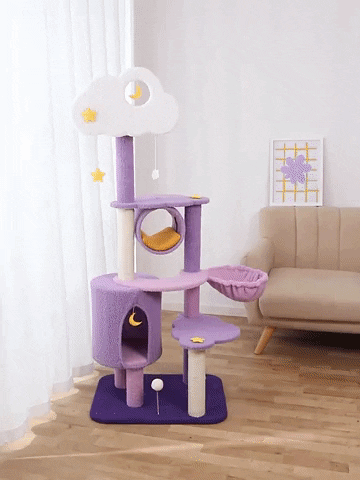 Size and Style:
Looking for an aesthetic drinking fountain for your furry friend? Click here
My cat adores this tree; I've had it for about two months and she hasn't missed a day of perching her adorable little tush on it. It just took 5 minutes for her to use it once I got it built, and I didn't even use catnip. It's super quick and simple to put together, even for one person. The carpet's quality isn't quite what I expected, but so far it's been satisfactory. The material is a little thinner than normal carpets or even trees found in pet stores. Nonetheless, it has not disappointed me in the least.
The appearance is very high, as good as the description. Just installed, there is a little smell left, and it's fun to play with the cat stick to tease him up. Common problem! The shelf is not very sturdy, and the kitten sways on it at this point. It's okay to play until it's big.
My cat likes it very much. It keeps crawling on it and it looks great when taking pictures. My boyfriend also likes it very much. It feels that this cat climbing frame looks better than he has ever seen, and the quality is also very good, and it won't sway.
No color difference, beautiful, cat likes it,